This past spring Karakoram Guide Ambassador Naoyuki Kato made his second attempt at climbing and riding the north face of Mt. Clemenceau. Read about his adventure below:
Words by Naoyuki Kato
1. Introduction
Deepest in the Rockies, Mt Clemenceau is far more remote than any mountains in the range. We headed to Red Rock Harbor, 150K east from Revelstoke, BC to launch our expedition. From there we kayaked windy sometimes wavy Kinbasket Lake to Wood Arm for 25K. The following day we started hiking old logging road in 60s with possibly 50kg backpacks on and skinned to tree line. Through extreme bear country and rugged glacier travel we spent little over a week to arrive into our Base Camp, located on 2200m at the base of the North Face, about 50K from the civilization. We also stick to team on-sight try by fair means. Non-support and little beta makes our expedition very spicy but meaningful.
2. Member
Naoyuki Kato (snowboard), Yuske Hirota (snowboard), Tadahiro Yamaki (ski)

3. DURATION
2014/04/27-2014/05/19 (23Days)
4. ITINERARY
DATE # ACTIVITY ELEV. CAMP
4/27(S) 1 Canmore—Red Rock Harbor 700m Harbor
4/28(U) 2 Red Rock Harbor—Wood Arm 700m Armshore
4/29(M) 3 REST (prep.) 700m Armshore
4/30(T) 4 Wood Arm—Japanese Garden 1550m Forest
5/1(W) 5 Japanese Garden—First Descent 1890m Forest
5/2(R) 6 REST (rain) 1890m Forest
5/3(F) 7 First Descent—TL 2100m Forest
5/4(S) 8 TL—col—Cummins—Tusk Glacier 2000m Glacier
5/5(U) 9 Task Glacier—Moraine 2000m Moraine
5/6(M) 10 REST (snowstorm) 2000m Moraine
5/7(T) 11 Moraine—Base Camp 2200m BC
5/8(W) 12 BC—Lower Wall(2800m)—BC 2200m BC
5/9(R) 13 BC—Plateau(2900m)—BC 2200m BC
5/10(F) 14 REST (1st designated rest) 2200m BC
5/11(S) 15 BC—Plateau—3400m—BC 2200m BC
5/12(U) 16 BC—Tusk Glacier Cache 2000m Glacier
5/13(M) 17 Tusk Glacier—Cummins—col—TL 2100m Forest
5/14(T) 18 REST (rain) 2100m Forest
5/15(W) 19 TL—Col 2100m Col
5/16(R) 20 Col—Wood Arm 700m Armshore
5/17(F) 21 REST (rain) 700m Armshore
5/18(S) 22 Wood Arm—Red Rock Harbor 700m Harbor
5/19(U) 23 Red Rock Harbor—Canmore
5. OVERLOOK (paddle to b.c.)
We used 2 folding kayaks and paddled big Kinbasket Lake that has two reaches and arms for 25K to the point where we started hiking. Headed trough extremely dense grizzly population with 60's old logging scar to the col, where the West Face of Clemenceau and Tusk Peak was visible in the distance. Made our first turns on the expedition in and set the camp in the forest. Micro route findings get rather complicated and the weather came in. We managed to find the right way up to the Clemenceau Icefield and skied carefully all way down to the junction between Cummins Glacier and Tusk Glacier. Climbed up the highly crevassed ice fall in front of us and we all got overwhelmed by stunning Tusk Peak. North Face of the Tusk is still unclimbed. We set our camp in the middle of the Glacier and cached some for the way back. Traversing along the East Face of the Clemenceau from the camp was one of the hardest route findings but was successful and made our base camp in the very bottom of the Lower Face on 2200m.
5-Map
6.   Mt Clemenceau(NORTH FACE)
The fourth highest mountain in the Canadian Rockies and unquestionably the main attraction of the area. It is huge, bulky mountain, each face presenting a different perspective of the peak. The normal route up the West Face is a classic glacier outing, sufficiently mellow. The views of the Clemenceau Icefield area make an ascent a very worthy escapade. Beautiful ice ramp that screams to be climbed is considered as the same class as the North Face of Mt. Robson. The first ascent of 1989 was made over 16 days road to road, in winter with NO air support by the Canadian team, K. Wallator, T. Thomas, and G.McCormickle. Absolutely awesome feat!!! In 2012 Canadian skiers made the first ski descent of the North Face with heavy assist from Helicopter…which in my book does NOT count as an adventure.
Intimidating look of the face gets constant 55 degrees of ice (grade IV), and 1,000m-vert from the bottom to the top. There is bergshrund on the lower face all way across and the outrun is very serious, big consequence with a huge ice falls on your skiers left. Any mistake leads to certain death. The only possible climb is through the bottle neck, surrounded by hanging ices from both sides, not to mentioned that there are always sluffing from the upper wall that makes the ice spine in the middle of the neck. The upper face is even steeper and large cornices and gargoyle formation are insane look beneath the top.
7. RESULT
We did our best… even though not getting to the summit, not riding from the peak…road to road with no air support with not much beta (weather etc) for team on-sight attempt. We believed 99% of our tactics was correctly executed but at the very end the condition was not right. Very satisfied with our process and if we made to the top and rode down the whole face, that means the process is over. In other word, we value how we did than what we did.
8. CONSIDERATION
★ TIME/DURATION
Snow cover on the face varies year to year. For 2014 it was very cold autumn but not much moist snowfall was observed in the area to stay throughout the season. That makes bare ice exposed on the face in spring.
We made the perfect decision on when to do, not too early and not too late. Paddling the lake was a big issue for us to earn a lot of mileage but if little too earlier than when we did it'd be miserable affair due to still frozen ice sheets. At the same time, if little too late, grizzly bears would wake up and mess around, bushwaching through the forest would make our route findings extremely difficult and time consuming, and when it comes to glacier travel and avalanche hazard, it'd be very challenging. Most importantly the rock bands, just below the plateau would make tougher to climb. In addition the way back to the lakeshore would be much more complicated, especially in the lower part.
By fair means the duration of a month-long expedition is very close to the limit. We had 5 days in our base camp and if we wait for another week or so the frozen north face won't melt out for sure.
★ SNOWPACK
Local mountain guide said was less snow year due to such a low air temp and highly crevassed all over. With that being said, the Clemenceau is located way west than the continental divide and is said usually to be more snow covered than other mountains in the Rocky Mountains. We also thought was way less snow covered on the east to north side of the mountain.
As far as the snow structure, the lower face had a recent snowfall on the top of numbers of melt freeze crust layers due to rather east faced angle.
Some upper layers towards the surface got into recrystallized but about top 20cm of new snow did not quite formed as a slab yet. For the hardness between the bottom to the middle of the bottle neck on the North Face was from 1F to 4F of decomposing snow, and upper bottle neck is total blue ice.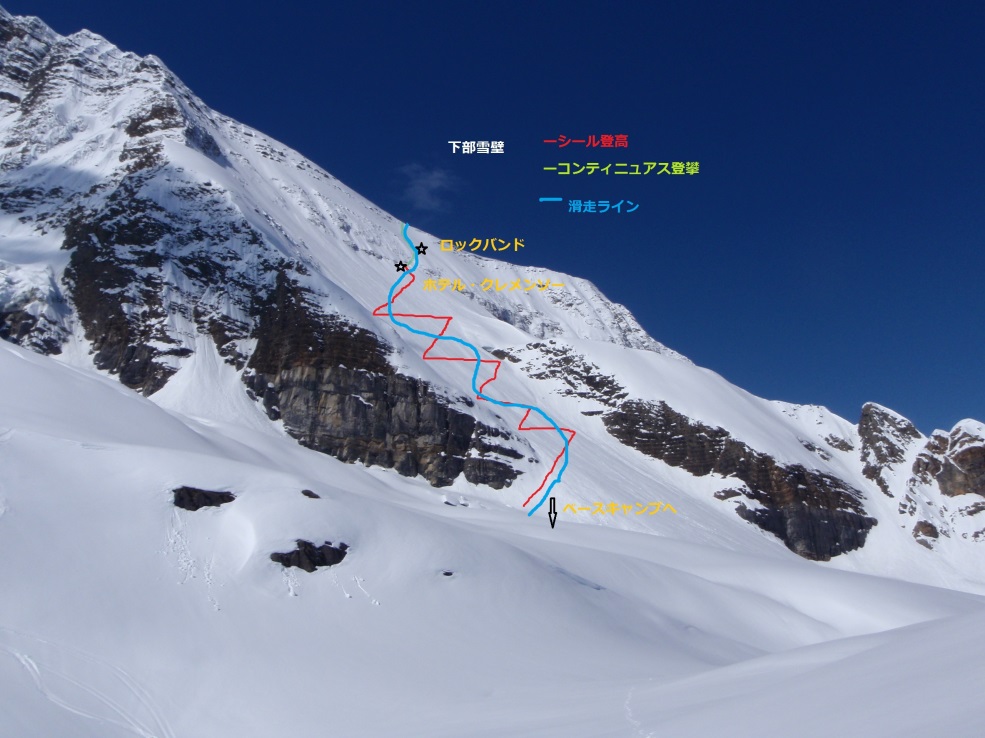 Lower Face
★ AVALANCHE HAZARD
Not so much exposure to the avy hazard on the way in but observed small point releases a lot. Started put our avalanche beacons on from the DAY 3. On the way back, on the other hand, rather big wet loose was the issue but we chose our way carefully and didn't expose ourselves to hazardous terrain much.
★ APPROACH ROUTE
Extreme approach from Sanwapta Falls via Fortress Lake in 2013 was so much terrain variability and lots of mileage. We used our folding Kayak from the west side and went across glacier and icefield to the base. Lots of fun riding down and climbing up made the whole expedition fun and fulfilled.
L)paddling  M)climbing the wall  R)Tusk Glacier
★ BASE CAMP
It was Shangri-La as compared to the past year. Located in the middle of nowhere at the bottom of the lower face with 2200m in elevation…complete wilderness.
BC
★ WEATHER
We started from 700m in elevation but felt not so hot at all. Freezing level varied from 500m to 2000m, and radiative cooling made our morning chilly like Alaska. However we never experienced any long time snow storm period.
★ CAMP
We made tremendous effort to make our camp as cozy as possible flatting the site. Found only one night with running water but carried enough gas and efficient SOL saved a lot.
・TENT Mont-bell Stellarridge (6 persons) with rain fly
Took raining in the lower elevation into consideration, we chose a rain fly. Cozy enough for 3 people with tons of gear inside.
・STOVE
JETBOIL Helios Guide、SOL(TI)
Efficiency of Jetboil system is fantastic for the outing like this.
★ SET-UP
・NAO Gentemstick Giant Mantaray Chopstick Carbon、Karakoram Carbon SL、La Sportiva SPANTIK mods
★ SNOWBOARD
Condition is everything…period. Riding from the peak is definitely feasible with right condition, which means decent amount of snow cover in earlier season (Sep. and Oct.).
Nao dropping in
Nao shredding
Ready for drop
Upper bottle neck
Nao snowboard track

★RATION
80% of our food is Japanese including instant rice from mont-bell. We've learned our digesting function dramatically decreases as the day goes by and so simple and nutritious Japanese food intake was the key. Lots of variation for beverages and soups, such like green teas, chai, and miso soup etc. Among of all, our favorite was dried fermented soybeans, definitely electrified our energy. To tell the truth, noodles and pastas are far less energized than rice with soybeans in the morning.
Other meals
Raman Noddle
Pasta
Sidekicks
★CONCLUSION
Head to head struggle with the mountain with passion and tactics makes our attempt extremely unforgettable. No regret whatsoever. If you would like ride down the whole face the timing will have to be perfect, that means you'd need to fly in, maybe late May or early June with lots of moist snow onto the face. No walk-in style for that case for sure due to the difficulties mentioned above.
After riding the North Face photo: Yuske Hirota
THANK FOR ALL YOUR SUPPORT
Sunset/ Red Rock Harbor
END