Words by Karakoram Ambassador Liz Daley:
I've spent the last month basically in a little place called Trenchtown, Italy. It's a magical spot 15 minutes from Chamonix filled with fine Italian espresso, spines, awesome tree skiing, steep faces right off the tram tower, the deepest of powder snow and melt in your mouth pizza. If it's not snowing it's bluebird and everyone's always smiling, even the locals. We bought an unlimited Mont Blanc tunnel pass so we were free to go over there at our leisure, maybe even just for dinner if we decided to take a rest day from choking on pow.
'Merica! Photo cred: Jason Thompson: www.jthompsonphotography.com/
Photo cred: Davide De Masi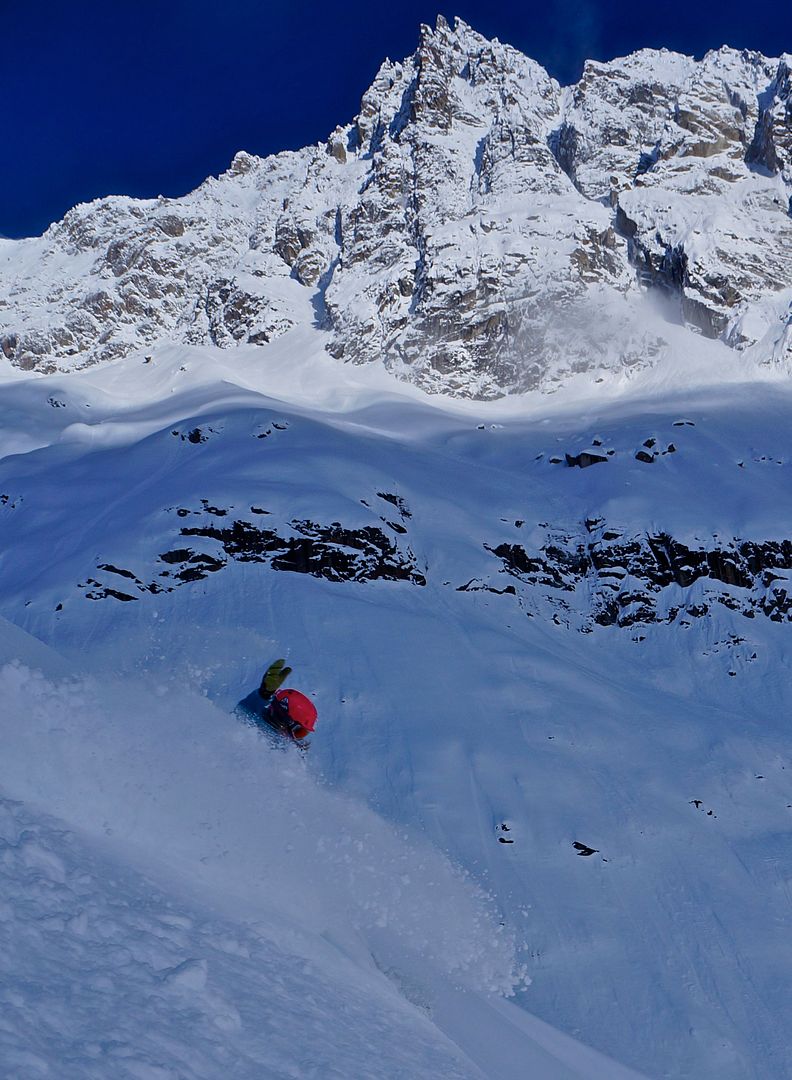 We finally started to see some clearing in the weather last week and I got up into the Argentiere basin to check it out conditions and to remember why I'm spending another season in Chamonix !!!!big tours, big lines, big climbs, big adrenaline AAHHHH!!!! Totally out of touring shape from freeriding the last month a tour up to the Col d'Argentiere kind of hurt, sadly. But a view of the north faces made me feel better.

During a night out at Moo Bar after way too many beers and dancing, Ben Briggs, [url]http://www.ben-briggs.com[/url], and fellow American Alpine Institute guide Danny Uhlmann and I decided to head up to ski the Col des Cristaux once the weather cleared again. I've ridden this line before but not for three years so I was amped! This pic is from [url]http://www.Chamonixtopo.com[/url] but conditions were pretty similar.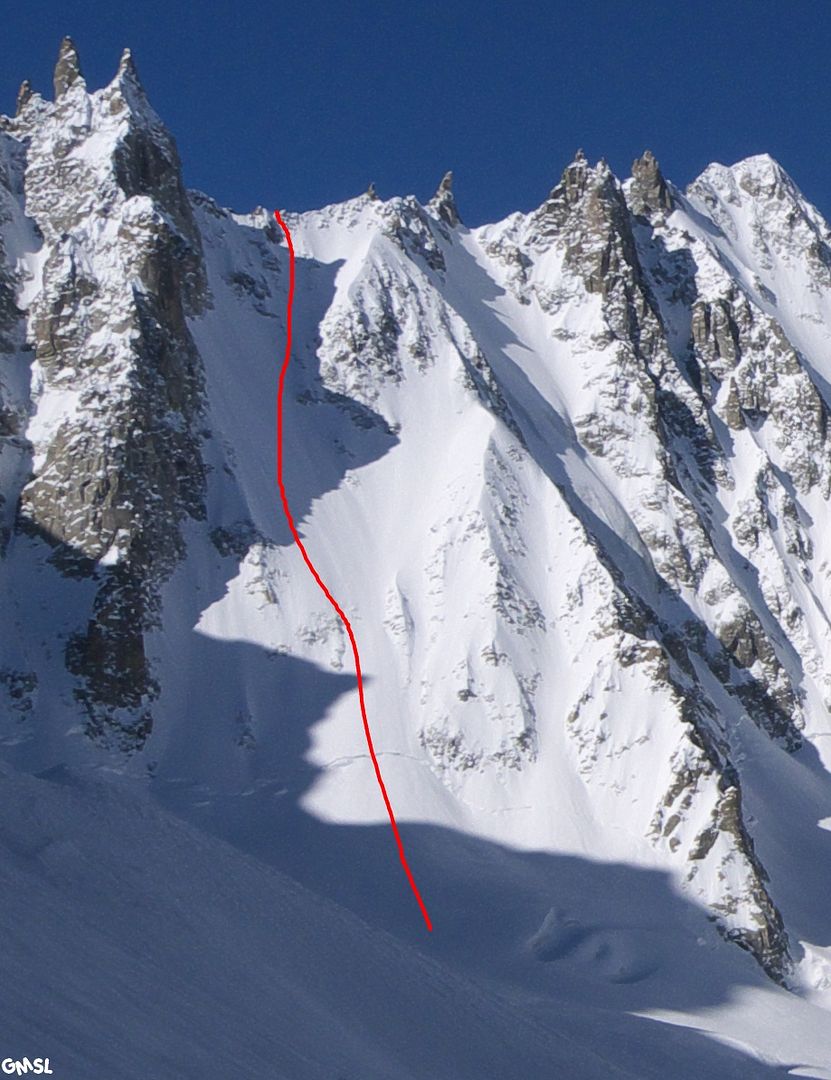 We got to the face and saw three tracks in it. We were stoked, thinking there would be a nice bootpack all the way up… Think again. After roping up to cross the shrund it was tit's deep wallowing for the first hour or so, we took short rotations at breaking this heinous trail.
We found the booter for about 100m which was nice then the snow changed to nice firm pow, boosting moral and increasing stoke.
Ben Briggs, the legend continues:

The snow got pretty firm with loads of rocks at the top, but we made it!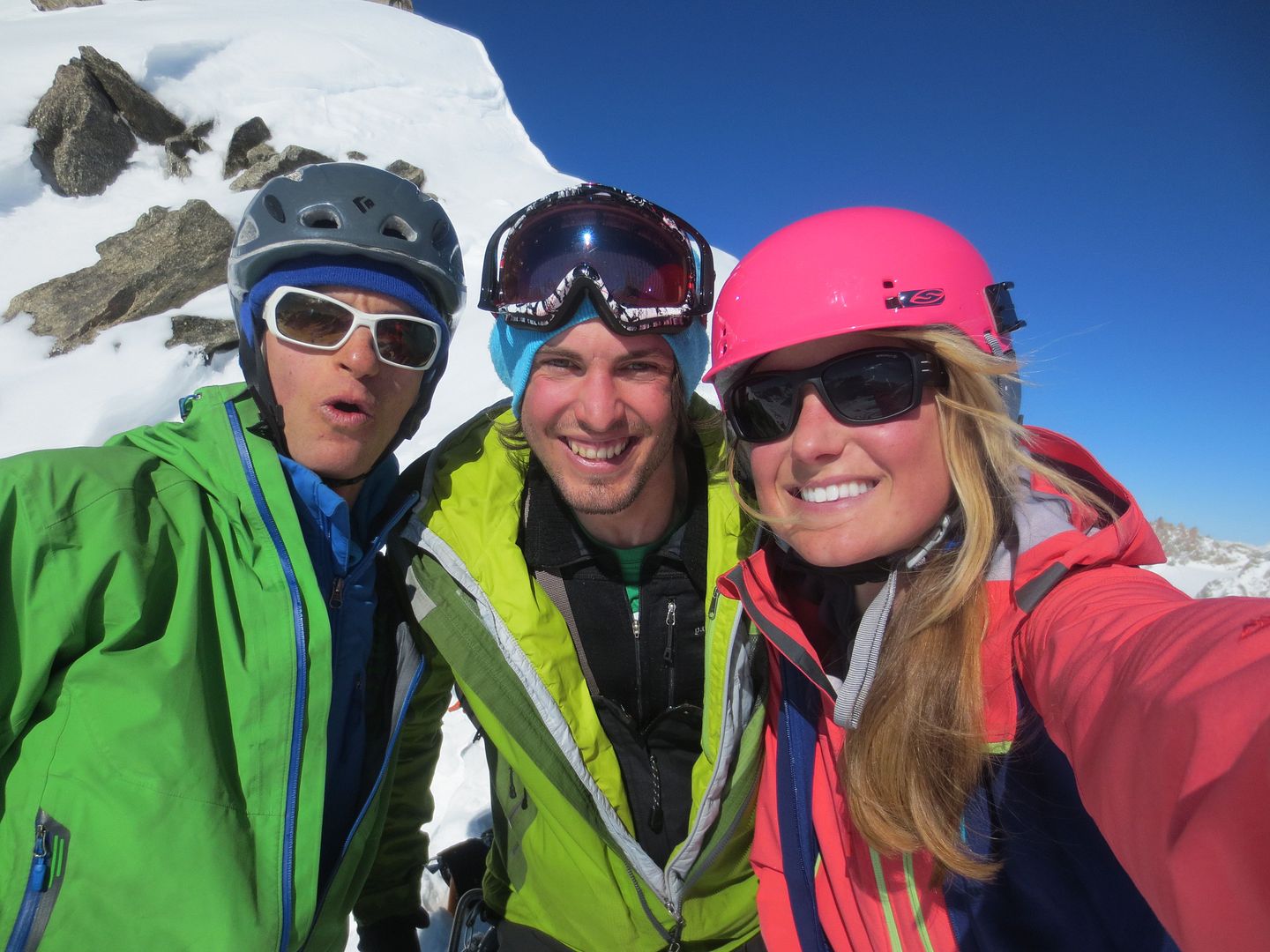 Danny's amping in what I call his "savage pounding" sunglasses. He's a guide here in Chamonix, hire him: [url]http://www.firstlightmountainguides.com[/url]. Tell him I sent you 🙂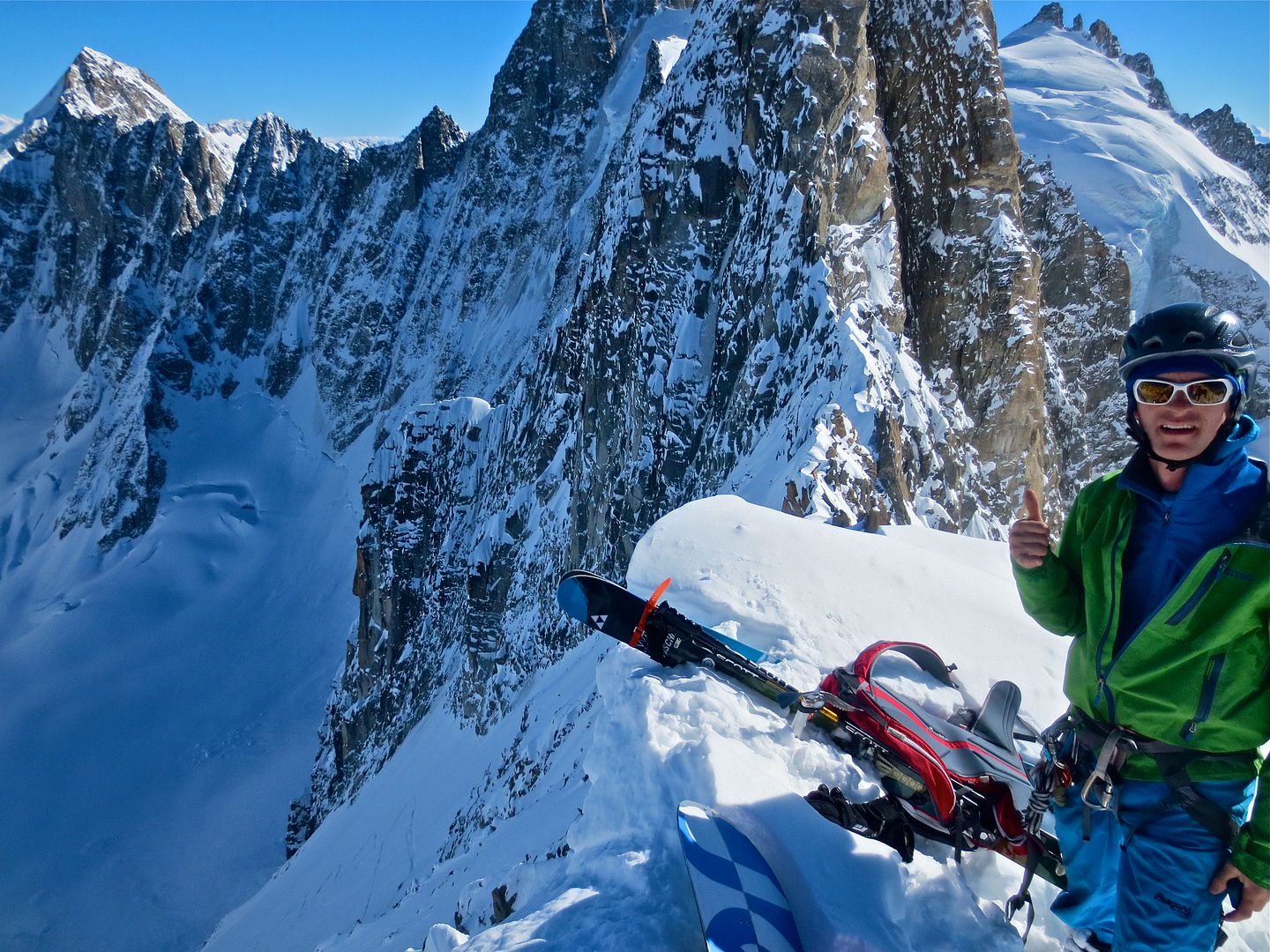 This is one of my favorite views in all of Chamonix! Last time I was in this spot it was sunset and we had a mini epic getting out on the flat glacier because our tracks had filled in.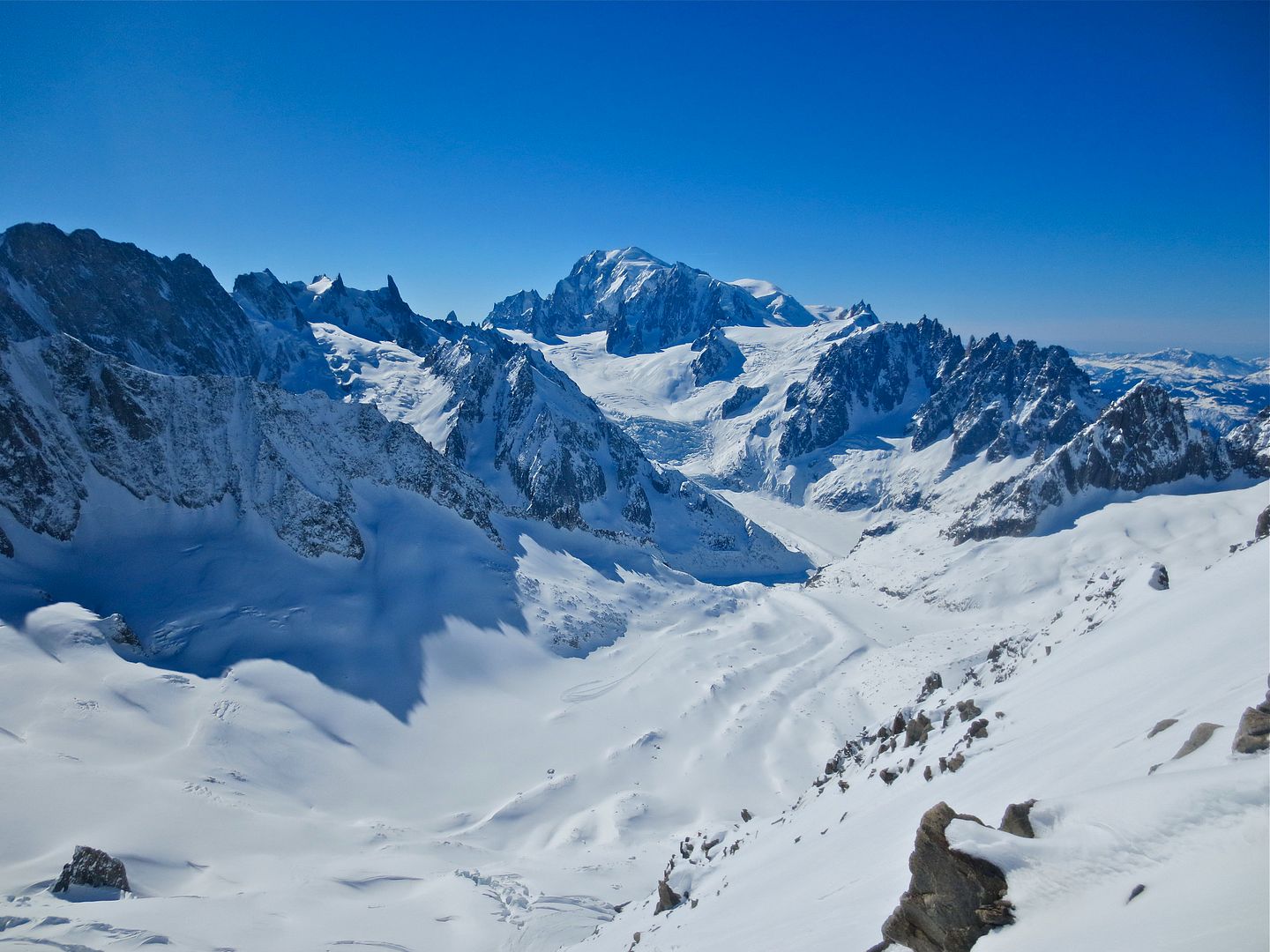 I remember being so gripped last time I rode this line three years ago. There were times I really had to fight my nerves getting up and down this line. It felt so good to be up here again feeling super confident about the pitch, the snow and my skill level. Here's a video from the line three years ago: [url]http://www.youtube.com/watch?v=v4FzZ-jQQ44[/url]
Ben getting through the rocky bits:
As Danny and I reflect on and discuss whether this unridden portion is going to be rocky or not, Ben charges in. Danny was like "Damn Honeybadger!" Ben [i]doesn't give a shit, he's just crazay![/i] I laughed, and more cautiously shredded it. It's not rocky, it's blower.
I know you've probably all seen the "Crazy Nastyass Honeybadger" video, but even if you have you should probably watch it again:
[video_responsive][/video_responsive]
[i]He's so crazay![/i] I saw the anticipation on his face, the massive grin, red cheeks, wide eyes. Like a steam engine ready to combust. He wasn't waiting for no one then I watched him rip it all the way to the bottom. The snow looked good.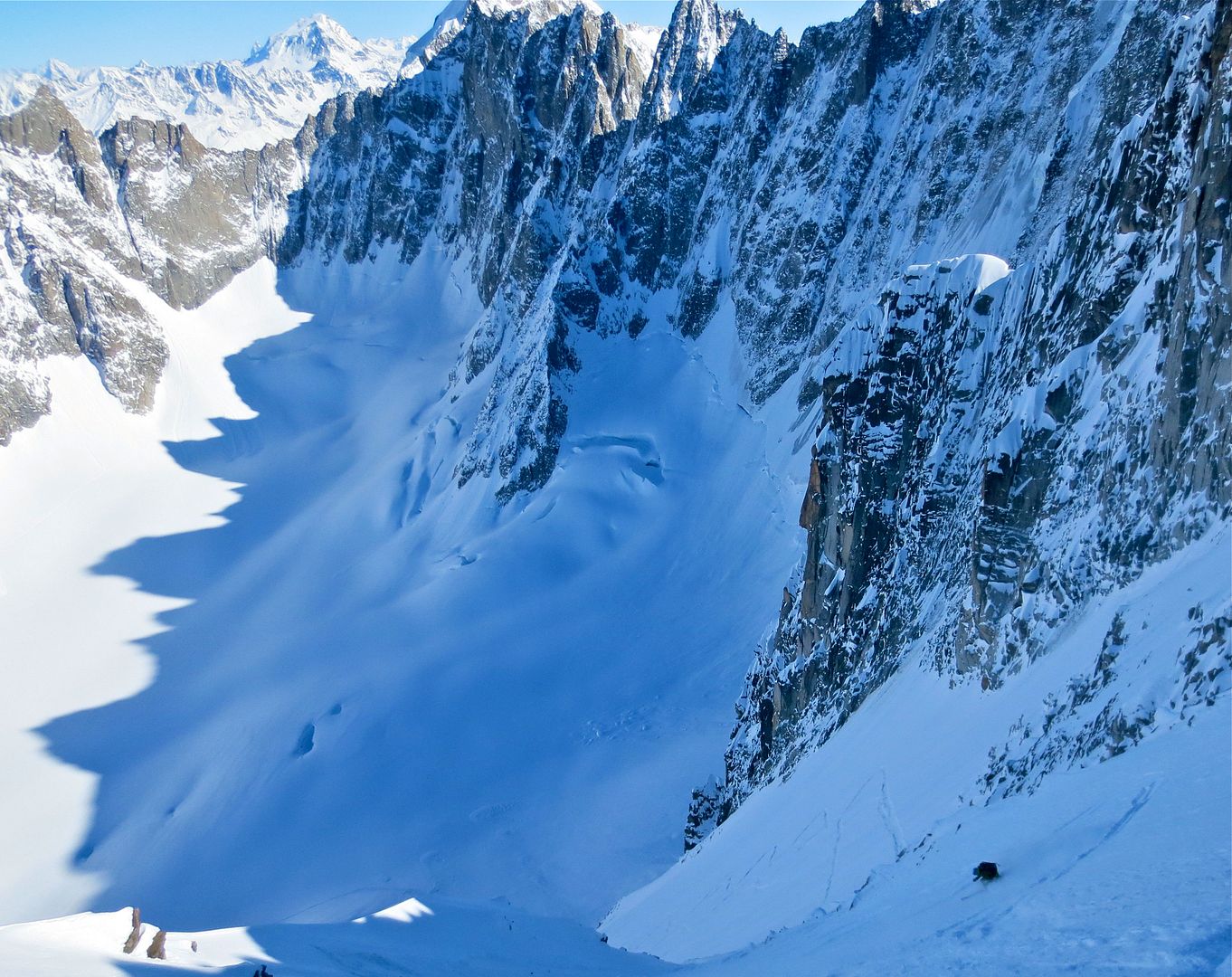 Me, next. It was such deep powder I think even if you fell in the middle of the face you would've stopped. This picture is so funny because it exemplifies the exact opposite sentiment Ben had at the bottom of the run. What it does illustrate perfectly is the too cool for school, radditude vibe in Cham though. I'm glad these guys don't have any of that. Such a fun day and a great line in awesome conditions!
Now for the heinous schooch out of the basin, where I got the schooch leg bad and Danny said I looked stupid and called me handicapped. A snus fixed my leg and my state of mind. Perfectly smooth groomers down the Grand Montets, led us to drinking Panachés in the sun. Thanks for the awesome day boyz!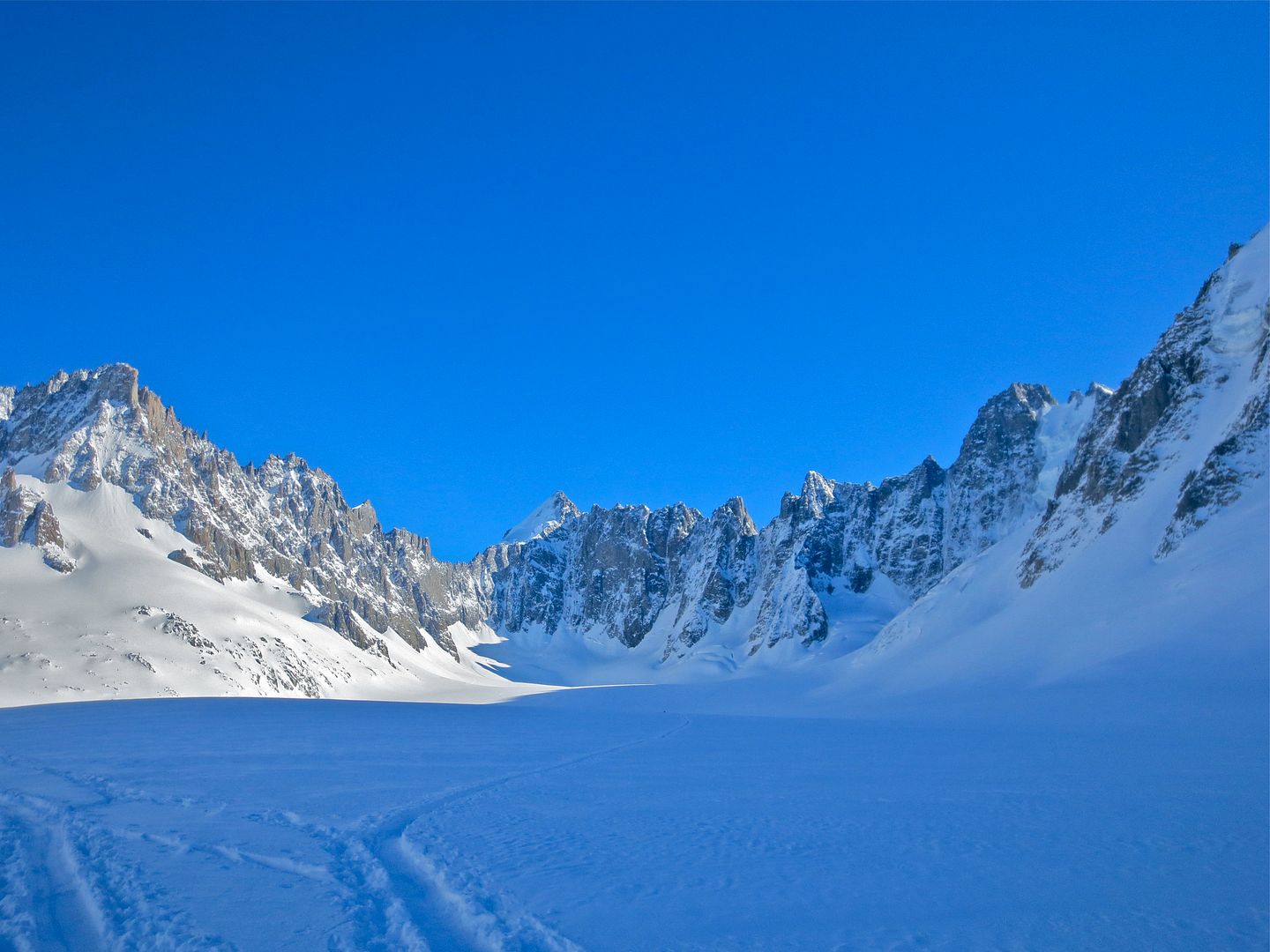 [video_responsive][/video_responsive]