Included: Bindings, Interface Kit (Ride Mode 2.0, Tour Mode, DualSpeed Riser w/ Heel-Lock), AirStrap and standard toe straps
Included: Bindings, Interface Kit (Ride Mode 2.0, Tour Mode, DualSpeed Riser w/ Heel-Lock), AirStrap and standard toe straps
OVERVIEW
CNC machined completely from 7000 Series Space-Grade Aluminum,  the Prime-X slashes 85 grams off the weight of the 2019 X with the new AirPod ankle strap, asymmetric heelcup, aluminum hardware and hollow pins.  The lower inner sidewall allows for tweaks while the taller outer sidewall provides support for touring.  The Prime-X sets a new standard for backcountry snowboarders.  Travel lighter, travel faster, ride harder.
Rider: Jeremy Jones  Photo: Andrew Miller  Location: Chile
OVERVIEW
The Prime-X splitboard bindings take the Prime System to the next level, slashing 85 grams off the weight of the SL while increasing the stiffness of the chassis. The 7075-T6 aluminum toestay adds flex under foot to dampen chattery conditions and reduce foot fatigue. The Prime-X is setting a new standard for backcountry snowboarders. Travel lighter, travel faster, ride harder.
SPLITBOARD BINDINGS – TECHNOLOGY
ACTIVE JOINING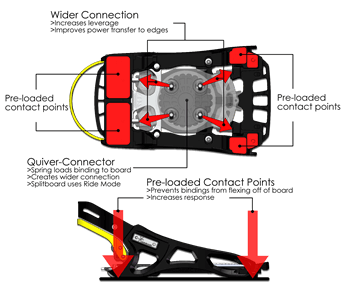 NO SLOP— INSTANT RESPONSE.
Pre-loaded binding to board connections give instant response. The most responsive connection for snowboards and splitboards.
DUAL RIDE-STRIDE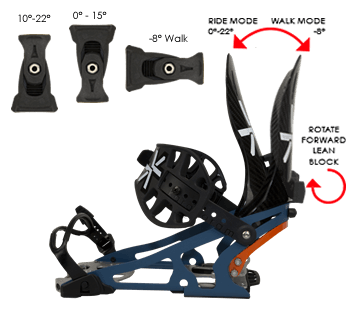 RIDE, TURN, STRIDE.
Quick 1/4 turn from ride mode to walk mode
Ride Mode: 0° to 22°, in 2° increments
Surf Mode: 0° or 11°
Walk Mode: -8° allows for longer stride
REACTIVE HIGHBACKS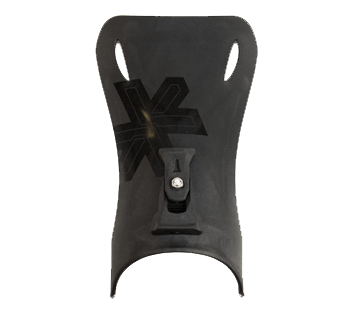 FEATHER WEIGHT SUPPORT.
Medium-Stiff Flex (8 of 10)
Dual Ride-Stride Forward Lean adjustment for Splitboarding
Flex-Lock compatible for Splitboarding
OPEN CHASSIS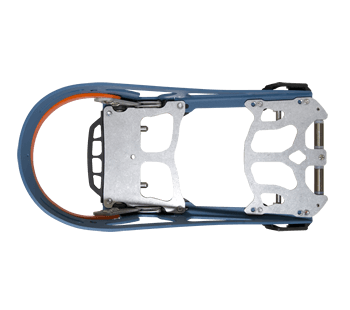 NATURAL BOARD FLEX.
Open chassis allows board to twist naturally under binding
ASYMMETRIC HEELCUP
TOURING SUPPORT. RIDING FREEDOM.
High sidewall supports boot for better power transfer and grip while side hilling
Low sidewall give freedom of movement for riding
AIR-POD STRAPS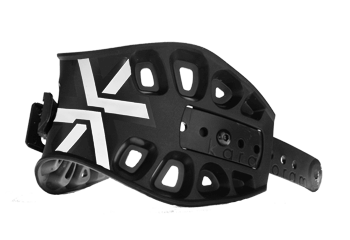 NO PRESSURE POINTS.
Independent Pressure Pods articulate to boot eliminating pressure points and pinch points.
Made from P-Lite TPE, 30% lighter than standard TPU
ALUMINUM HARDWARE
EVERY GRAM ACCOUNTED FOR.
Custom 7075-T6 Aluminum Screws
Hollow pins
WIDE CONTACT POINTS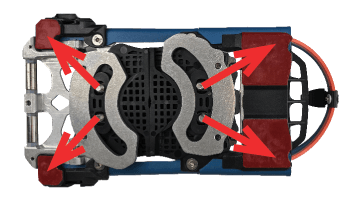 DIRECT POWER TRANSFER.
Wide binding contact equals power transfer directly to edges and tip to tail.
AIRSTRAP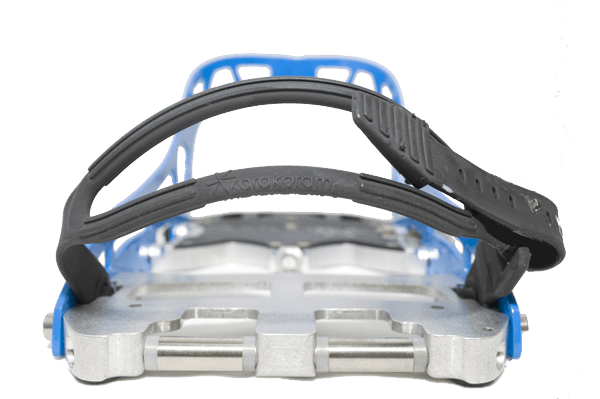 THE LIGHTEST TOE STRAP EVER.
Included with all Prime-X Bindings
ACTIVE JOINING
INSTANT RESPONSE.
Pre-loaded binding to board connections give instant response.
DROP ON CHANGE-OVERS.
Active joining allows for a loose fit then closing the lever locks your binding to board, removing all play from the system.
NO SLOP.
INTERLOCKING SEAM TABS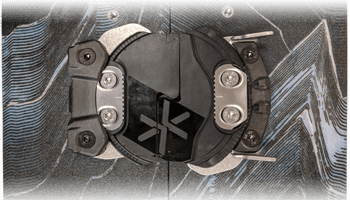 NO SEAM SEPARATION.
Seam tabs interlock across the seam of your splitboard interlocking and pre-loading the seam.
SNOW EJECTION CHANNELS
EASY SNOW CLEARING.
Made from a carbon infused nylon, the Ride Mode 2.0 is designed to reduce snow build up and clear snow easily.
FLEX-LOCK
2.0 X EDGE GRIP.
Tour faster using less energy. Use the boots you want to ride in. Ride like a snowboarder. Tour like a hard booter.
TOUR MODE
TIGHTEST AND SMOOTHEST TOUR PIVOT.
Independent sleeves rotate freely on a fixed through axle (similar to a bike axle) for the stiffest and smoothest touring pivot
Wide support cradle increases tour mode rigidity
Offset cradle allows snow to clear during entry
Quick release touring bracket allows for quickest and simplest transition
DUAL SPEED RISERS
POLE BASKET FLIP.
Flip up with pole basket; simple and easy
Dual height climbing risers
LOCK YOUR HEEL.
On-the-fly heel lock down
Release load equivalent to DIN 6
Heel-Lock folds out of way when not needed
PRIME QUIVER-CONNECTORS
Sold Separately
BUY MORE BOARDS, NOT MORE BINDINGS.
Compatible with all Prime System bindings, Quiver-Connectors allow you to quickly and effortlessly swap your Karakoram bindings from board to board. Now your split, your park board, your pow stick, your groomer rocket, and anything else in your quiver can enter the world of durable, no-compromise, lightweight Karakoram performance. No turning screws, no fumbling trying to remember your stance, and no wasting time when you want to switch boards.
Rider: Nick Russell  Photo: Andrew Miller  Location: Chile