Patented and Patents Pending
Specifications
Works with all Karakoram Bindings since 2012
OVERVIEW
RIDE LIKE SOFT BOOTER. TOUR LIKE A HARDBOOTER.
Sidehilling – no longer the bane of splitboarders. Simply flip the
Flex-Lock lever to gain sidehilling leverage. You've never been so powerful while touring in icy conditions. Flip the lever back to regain lateral flex to surf the mountain and kick your methods.
For more information on the biomechanics behind the Flex-Lock check out this blog post.
Rider: Kyle Miller  Photo: Jason Hummel
Maximize Edging
Triangulation between top of highback and ankle strap provides lateral support
Prevents ankle from rolling over allowing for maximum power transfer to the edge of ski
One Flip Operation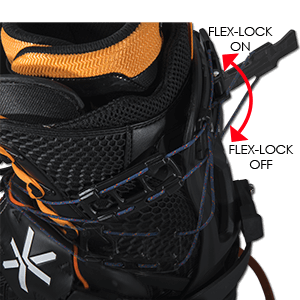 Full Range of Motion
Full range of lateral flex when Flex-Lock turned off
Kick your methods with ease
Butter your muffins with out any resistance
RIDE LIKE A SOFTBOOTER.
TOUR LIKE A HARDBOOTER.
Rider: Kyle HansenKahn (Karakoram Business Development)  Photo: Robert Timmerman  Location: Hakuba, Japan