BLAIR HABENICHT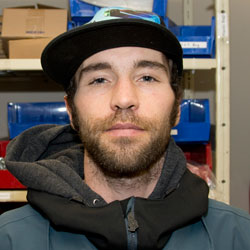 Home Town: Port Angeles, WA
Local Mountains: Crystal Mountain, WA
Splitboard Bindings: PRIME CARBON
Splitboard: Libtech Splitbird 159
Rider: Lucas Debari  Photo: Andrew Miller  Location: Mica, BC
Hey Blair! How did you get involved with Karakoram?
A few years back I was organizing a goat assisted splitboard trip in the Olympics for Snowboarder Magazine, and contacted Karakorum to see if they had interest in helping outfit our crew. The bindings worked much better than the goats.
Video Link: http://vimeo.com/34719551
Snowboarding as a whole has been changing a lot within the past few years. Not only has there been incredible progression towards bringing bigger freestyle moves to serious alpine descents, but it seems that more and more riders are not only willing, but excited to earn their turns without lifts or helicopters. What exactly is going on?
The new board to binding and board to board interfaces on the market have made it possible for a splitboard to preform almost as well as a normal snowboard in most backcountry terrain, and that is exciting. The earn you turns movement has always been there. I think the new splitboard technologies are just making the experience a lot more fun then the old, heavy, cumbersome systems. Top pros using the process as a way to film video parts has also given splitboarding more media exposure then ever before and influenced a lot of people who otherwise might have stayed inbounds to go into the backcountry.
It's taken a long time, but splitboards are now regarded as a legitimate mountain travel and shredding tool by the mainstream snow industry. What do we still need to do to catch up to the skiers?
With Karakorum's quick clip tech and the ability to leave your bindings on through the switch over if you so choose, We have already caught up to the skiers. If anything, they are slower when boot packing becomes mandatory because of their stiff, plastic shelled ski boots, and need to catch up to us.
How do you see splitboards evolving on the riding performance front? Do you feel a difference between riding your solid and splitboards when dropping something big and steep at Mach Speed?
The torsional rigidity lost when you halve the surface area of a snowboard into two skis is something that I cringe over, and I hope we will soon see designs that don't just lock the board together, but integrate the two halves and make their cores actually connect. Possibly a tongue and grove like design.
Let's face it: Splitboarding is hard work! How does your own riding style shift when dropping with a pack full of gear, and with wobbly legs after having climbed thousands of feet?
Bigger drops and trickery get a lot more challenging with all the extra weight swinging around. I definitely look for lines that don't demand to much mandatory airtime if I have a loaded pack on. That said, I try to run my pack as stripped down as possible so I don't have to downgrade my line choice because of my backpack threatening to throw me over the bars.
What part of the process of human powered big mountain riding excites you the most?
The part when you get to snowboard! Hiking is fun and all, but I am not a mountain climber. I am a snowboarder and by default climb mountains. If it wasn't for the snowboard part, I'd be surfing.